I heard about two sisters who are running a vegetable muffin and scone shop in Yokohama's Gumyoji area and decided to check it out myself. The sisters' bakeshop is in a residential area facing the Ookagawa River about a five-minute walk from Gumyoji Shopping Street. The older sister, Ayako Mizushima, who's in charge of sales and marketing, escorted me inside the kitchen. I was soon surrounded by a sweet aroma and found the younger sister, Satoko, in the midst of baking.
The vegetable muffin and scone shop "AS muffin" offers all homemade products using natural ingredients, such as Yokohama-grown vegetables, fruits and nuts. Their muffins are tender and moist and you can taste the natural sweetness of the ingredients. My favorites were the "Carrot and peanut butter muffin," which even entices kids who hate vegetables, and the "Caramel and pumpkin muffin," which is baked using homemade caramel cream. If you're looking for something biscuit-like, try the "Spinach and cheese scone," which is Ayako's recommendation. Take note that new items are being created and added to their menu every month.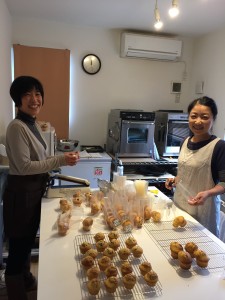 "I love both eating and baking muffins, so now I bake the kind of muffins that I want to eat," says Satoko, who used to run the muffin shop by herself. Her older sister, Ayako, who also loves to eat, joined her in 2015, and they started running the business as a team. According to Ayako, her younger sister has a real artisan spirit. She won't add a new item to the menu until she's absolutely convinced after many trials in her kitchen that it is worthy. "Our muffins are made from vegetables and they are not too filling. Even if you eat three muffins, you still don't feel guilty," Ayako tells me with a smile.   
You can buy their products online or at their bakeshop on Saturdays. You can purchase their baked goods at their stand from around 1pm until all the items are sold out. If you can't make it on Saturdays, it's possible to place an order in advance and pick up at a more convenient time. This month, you can now enjoy their newest creation, "Burdock root and chocolate muffin." If you want to make your Valentine's Day even better, some savory muffins and scones produced by these sweet, smiley sisters is highly recommended.