Artisanal grilled cheese sandwiches are definitely not something you stumble on often in Japan. Couple that cuisine with a unique interior that is half diner, half living room and you have Buy Me Stand. The clientele on our visit was varied with some couples, a few businessmen/women, some single diners, and a group of women each with their poodles (the restaurant is dog friendly).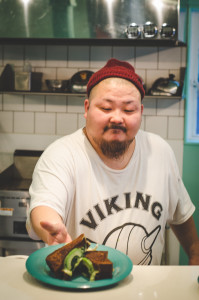 Situated on the hillside of Motomachi running up to Yamate, Buy Me Stand is open at 8:00 for breakfast and continues straight through to dinner, closing at 22:00. We stopped in for a late lunch midweek and found the place to be surprisingly bustling. From the ten specialty sandwiches on the menu (¥1000~¥1400) we opted for the popular Apple Cheeks, featuring pork rib meat and apples melted into Camembert cheese. We also tried the Hella Green, a combination of spinach, basil, a blend of cheeses and a generous amount of avocado.
The sandwiches come with homemade coleslaw and self-serve coffee or tea with free refills. Any of the five varieties of soup (¥500~) will complement your sandwich nicely. The special morning menu offers a choice of five breakfast plates available until 11:00, though we are told the staff tend to be flexible. For drinks, in addition to coffee and tea, there is a small variety of soft drinks (most ¥400) and Heartland beer on tap (¥600).
As an added quirk, the restaurant also has a small clothing and memorabilia shop attached to it called 405 Factory, which has some rather interesting items to check out while you wait for your sandwich. The allure of something different will attract you once, the food and atmosphere will surely bring you back for multiple visits.
Address
Naka-ku Motomachi 2-108
045-264-4405