In July, Chinatown's popular Shanghai-style restaurant Jogenro opened sister store "china bistro hassun" in Noge. This new eatery near Miyakobashi has an elegant exterior resembling a traditional Japanese restaurant. The concept is that of a Chinese bistro in a renovated machiya (Kyoto-style townhouse). Colorful Chinese paintings and scrolls adorn the walls, an elegant bonsai adds a Japanese touch, and high stools at the counter give off the air of a bar.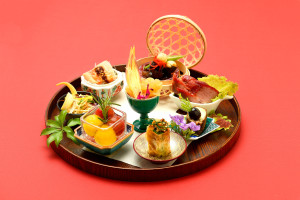 The basic menu is Chinese, but is full of original fusion dishes utilizing Japanese and Western culinary traditions. Beef Stew with Black Vinegar Sauce (¥2500), Tripe in Tomato Sauce with Chinese Spice (¥880), and Crab Omelet Quiche (¥780) are some popular dishes demonstrating this blend of cultures. I tried the Shrimp in Wasabi Mayo Sauce with Mango Salsa (¥1480) and was delighted by the harmony of the mayo, spicy wasabi and refreshing mango. The signature dish, called "Hassun" (¥1680), is an assortment of eight bite-sized appetizers, which are as tasty as they are photogenic. Enjoy each carefully prepared dish with your favorite drink–from beer and sake to Shaoxing wine.
Owner Megumi Jin is a third generation Hamakko (Yokohama-ite). She studied at an international school, went to university in Canada, and worked for a Japanese company for several years before taking over the family business. She grew up eating Chinese food made with Japanese ingredients and it was natural for her to see lots of cultural crossover in meals. Jin conceives menu ideas and the chef, who has an international background and appreciation for fusion cuisine, brings them to life. "I hope everyone can enjoy our diversity of food culture," says Jin. If you're a foodie, you'll definitely want to pop into this chic new realm of Chinese food transplanted in Noge.
Address
Nakaku Nogecho 1-9-1 T&F Building I, 1F
045-325-8813
Hours
Tuesday-Friday 16:30-23:00
Saturdays & Holidays 14:00-23:00
Sundays 14:00-22:00 / Closed on Mondays (except holidays)