There are likely many readers who go out to Kamakura on their day off for a change of pace. About a five-minute walk from the west exit of Kamakura Station you will find the restaurant Garden House. A small path surrounded by plants leads you from the road to this modern looking building with a garden terrace on your right. The building–roughly 50 years old–was originally a cartoonist's atelier. The warm wood interior is cozy and softly lit.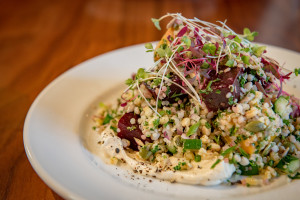 The main concept at Garden House is "Local and Craft", meaning they make every attempt to do things handmade and use local ingredients. We'd like to introduce the lunch experience, having visited then. There are around five different lunch sets that change daily. One of them, the Hamburger and Poached Egg Demiglace Stew Set (¥1600), made for a nice pairing. Additionally, you can opt for eight kinds of kiln-baked pizza (¥1700~), chicken roast (¥1800), house steak (¥3400~), and more.
On the drink menu, there are four types of house beer (250ml ¥700, 400ml ¥900, 600ml ¥1200) on tap made in collaboration with Kamakura Beer. Beyond that, there is a wide selection of wines (glass ¥750, bottle ¥3800~), cocktails (¥800~), smoothies (¥900), and coffee (¥500~). Those with a sweet tooth will struggle to choose from the dessert menu, which features a variety of pancakes (¥1200~), homemade ice cream (¥700), and other sweets.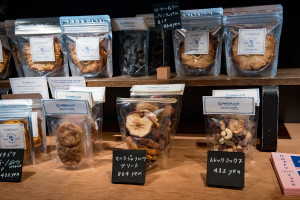 After the meal enjoy a little shopping at the in-store daily goods shop, or the gardening shop on the outside terrace. The terrace is also used for showing movies while meals are served. For events and other information, check their Facebook page.
Address
鎌倉市御成町15-46
0467-81-5200
Hours
every day 9:00~22:00 (21:00LO)