Just after exiting the Yamate Tunnel heading to Honmoku, you'll find the quaint Craft Bar Kokopelli on your left. This cozy bar-restaurant run by the charming husband-and-wife duo Kobayashi Junichi and Kyoko focuses on home-cooking with heart.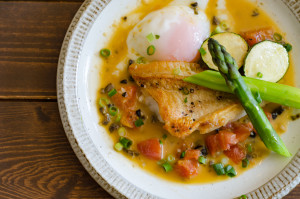 During our lunchtime visit we chose the stewed hamburger (¥980) and the rockfish (¥1280) in ishiru sauce (a fish-based soy sauce) from the five popular lunch options. The juicy hamburger came coated in demiglace sauce with an ample helping of mushrooms and potatoes. The rockfish was colorfully adorned with fresh tomatoes, asparagus and zucchini. The main dishes come with an appetizer set of three different items. Bread (or rice) and a choice of coffee or tea is also included with the meal. You can also add a mini beer (¥500) or wine (¥400). Of course, we couldn't resist!
The alcohol menu, like the cuisine, stresses "craft". The beers on tap are from three domestic craft breweries, and available in M-size (¥700), L-size (¥980), or a flight of all 3 (¥1000). A red and a white wine, both Japanese, and five kinds of sake fill out the quality drink menu. Izumibashi sake from nearby Ebina is often on the menu, too.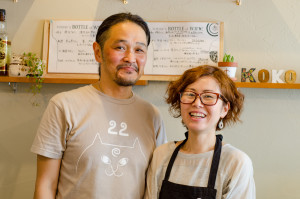 The name Kokopelli is derived from a Native American deity. Junichi says with a smile that he chose it because he thought is was a perfect match for Mugita-cho (literally "wheat town"), where the restaurant is located. While the interior of the shop isn't spacious, it feels like a living room–ideal for chatting with friends over a meal.
Address
横浜市中区麦田町1-35-1
045-264-4783
Hours
Mon-Wed.& Fri. 11:00~14:00, 17:00~23:00
Sat.& Sun. 11:00~15:00, 17:00~23:00
Closed on Thursdays