LEONE MARCIANO is the kind of restaurant that has you thinking about making another reservation before you leave. They serve authentic Italian food and wine in a dining space with Venetian-style décor, but there are more reasons than that for why you'll be planning that next visit.
Just inside the entrance is a counter where you can enjoy wine, appetizers and friendly banter with the chef. As you go deeper, a spacious dining hall opens up with pure marble columns and beautiful stained glass windows sparkling with light. An Italian radio program, not canzone, was playing in the restaurant and I heard appetizing cooking sounds and pleasant chatter in Italian and Japanese from the kitchen.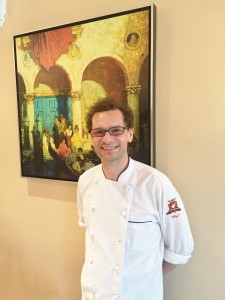 Paolo Mazzini is the chef of this beautiful, lively restaurant. He pokes his friendly face out from the kitchen to greet guests and has many fans of his handmade pastas in particular. Guests can choose from five kinds of pasta for their lunch course meals (¥2200~) and over ten for dinnertime. From the a la carte menu, the pasta with truffle and prosciutto in butter sauce topped with sliced truffle (¥3300) is their most popular one. The savory Acqua pazza (¥5500) is prepared with a whole sea robin, served with fresh baked focaccia and appropriate for sharing. Restaurant manager Shigeru Kadota explains that the concept of their restaurant is Tutto Vero Italiano, meaning savoring real Italian flavor. You may find yourself shouting "Buono!" while enjoying these authentic dishes with a nice Italian wine recommended by the sommelier.
To complete your Italian feast, try a cup of espresso made by the antique-style coffee machine–there are only a few in Japan. When I turned my camera toward the machine, their service director (and model), Sergio Moreira, grinned widely and posed perfectly for me. The staff burst into laughter at his Cheshire cat smile and the mirth made me imagine a happy eatery in Italy. That feast filled me but I'm almost ready for a second round. Which pasta is next?
Address
4-6-2 Minatomirai, Nishiku Grand Central. 1F
045-232-4080
Hours
Lunch 11:30-15:00 (L.O.14:00)
Dinner 17:30-23:00 (L.O.22:00)
Closed on Mondays (except holidays)