Panyano Oyaji is a rather unique bakery. From its name, I imagined a hard-headed, middle-aged man (oyaji) making bread in an old-fashioned way, but was instead delighted to find a wide variety of sandwich rolls (koppepan) stuffed with all sorts of things, like strawberry cream, caramel mousse, fresh fruit, and even tandoori chicken! A friendly staff member greeted me with a smile and I enjoyed listening to a humorous song about rolls playing in the shop. No sign of stubborn old men anywhere!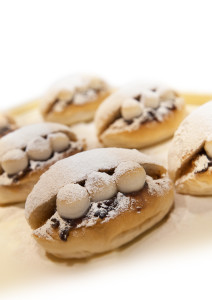 Opened in 2016 near JR Negishi Station, Panyano Oyaji has produced over 350 different kinds of items. About 80 to 100 varieties are served daily based on the seasonal availability of ingredients. "Each roll is just like a pop star for us. We 'dress' them up attractively and send them off into the world," says Kanako Narumi, GM of the K2 International Group, Food Division. The top selling items are a koppepan with custard cream and one with sweet, red bean paste. If you are looking for other fillings, koppepan with cutlet or fried fish with tartar sauce also come recommended.
The K2 International Group supports young adults who have withdrawn from society by helping them become independent again and providing them with a job opportunity. About 80% of the staff at Panyano Oyaji are graduates of the program. Their smiling faces clearly indicate they are enjoying the work.
If you want to enjoy your fresh-baked koppepan right away, have a seat on their open patio. They serve flavored tea on weekdays and coffee on Saturdays, both for free. By the way, the name of the shop comes from an old French children's song about an old baker who was fond of goldfish. Similarly, the bakery's owner also loves goldfish. The logo is a goldfish and he even made the bakery's original song about them. Oddly, I saw no actual goldfish in the shop. Even without them, Panyano Oyaji is certainly a special shop.
Address
Isogo-ku, Nishi-cho 14-3
045-353-3351
Hours
Tue-Sat 7am to 6pm
Closed Sun and Mon