With a jukebox pumping out pop tunes in the background, the atmosphere at Penny's Diner is perfect for a nice hamburger. Located near the entrance to Osanbashi, it was designed as an American-style, 1950s diner.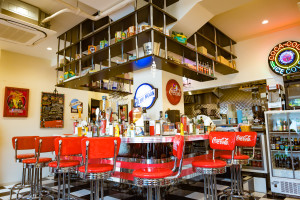 For lunch there are four different meals to choose from: hamburger (w/side), salad of the day (w/bread), cheese dog (w/side), and the daily special (all ¥1000). The side dishes available include cole slaw, French fries, mini salad, potato salad, and cups of soup. Toppings such as blue or cheddar cheese, bacon, avocado, and jalapeno can be all be added to your burger (+¥150~). At lunchtime soft drinks are only ¥150 and 120ml mini-beers ¥200. They also have Kona and California craft beers (¥1000~). We ordered a cheddar cheese hamburger with fries along with a bacon and avocado salad. While smaller than a hamburger you would find in the U.S., it's thick, juicy, and 100% American beef. For the salad, they were very accommodating to our vegan guest's needs.Their
hospitality was much appreciated as well.
Set in the back is an open kitchen where you can watch the chef grill your burger and bun. A counter with stools sits in the center of the restaurant surrounded by a number of booths and tables that can seat four comfortably. The staff uniforms are retro American diner style and you may find yourself forgetting you are in modern Japan. Our American guest laughed, saying that his grandmother wore similar clothing at a diner she worked at. In Yokohama's fair May weather, why not take a little journey to a small piece of America for a meal?
Address
Naka-ku Kaigaindori 1-1 Boeki Kyoukai Blg 1F
Tel: 045-228-7742
Hours
11:30~23:00 (L.O. 22:00)
Sun & Holidays 11:30~21:00 (L.O. 20:00)
Closed Mon