Pie Holic, in MARINE&WALK YOKOHAMA, has been attracting attention since they opened last year. In their spacious open kitchen, you can watch (and smell!) each pie being attentively prepared. Bowls placed casually on the dining counter and shelves stacked with plates provide an at-home atmosphere.
For the lunch set (¥1850) you can choose soup or salad to go with your choice of main dish and all-you-can-eat "savory pie" (6 types). For those that don't know, savory pie refers to pies that aren't sweet. Think meat pies, not apple pies. If you feel the need to add some sweets, there are some set options (¥150~450) and also various drink sets (¥200~400).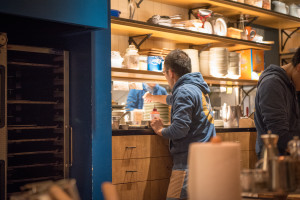 Dinner time starts from 17:00 and features a standard menu of twenty different savory pies to choose from including Beef Meat Pie, Shepard's Pie, and a healthy Quinoa Veggie Stew Pie (1 serving ¥850~/3-4 servings ¥2400~). The pies are cooked upon ordering, so expect to wait 20-30 minutes. Pie Holic encourages you to sit back and enjoy an appetizer (¥300~) with a drink while you await your fresh-from-the-oven main dish. Of course there are alcoholic beverages, but there are plenty of non-alcoholic selections as well. It's well worth trying uncommon ones like hot apple cider (¥600) or mojito coffee (¥700).
Diners without a hearty appetite should save some room for dessert. The apple pie comes in three varieties–Standard, Dutch, and Vegan (all ¥500/serving). Also available is Strawberry Short Pie (¥650) and Pie Parfait (¥450). No matter how full you get, your stomach will be begging you for more pie! Expect to make a return visit.
Address
Naka-ku Shinko 1-3-1
045-227-6777
Hours
11:00~23:00 (L.O. 21:30)