Yokohama's local beer scene just keeps getting better. In December of last year, with the opening of TDM1874 in Tokaichiba, the city added one more place where you can drink great craft beer right from the source. It's both a brewpub and a liquor shop, and lovers of fine alcohol will have difficulty motivating themselves to go home.
CEO Kato Shuichi, a Yokohama native and 5th generation owner of retail liquor company Sakaguchiya, came up with the idea of building a brewpub/liquor shop in lieu of remodeling his aging, original shop. After much preparation and research into brewing, his plan finally came to fruition after two years.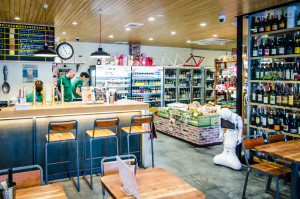 During his planning phase, Mr. Kato was fortunately introduced to veteran brewer and Englishman George Juniper through a mutual friend, and with that he had the final piece in place to start brewing. Juniper had trained in England and at the time was looking for a place to put his skills to work as a lead brewer.
There are four original brewed-on-site beers on tap (½ pint ¥420~/pint ¥700~) as well as Asahi Super Dry (glass ¥450). Daily wines and sake are also available by the glass (prices vary) and it's also possible to buy a bottle and drink it there (+¥500 corkage fee). Small pizzas (¥790) and about 20 other food items are also on the menu.
The shiny brewing area is encased in glass, allowing visitors to easily observe the equipment and possibly brewing activities. There are a few seats at the bar and multiple tables inside and outside. We're told it gets busy some evenings, so consider making a reservation.