For years, beer lovers all over Japan have flocked to Thrash Zone near Yokohama Station for its "extreme beer", meaning strong, boldly flavored craft beers. Owner Koichi Katsuki also unapologetically plays extreme music, meaning punk and metal. For some, it takes getting used to–the beer certainly helps. He now has a new branch in Kannai.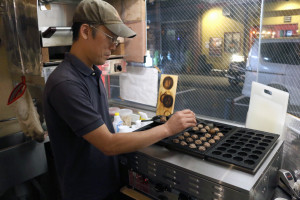 The new place, dubbed Thrashzone Meatballs, is much like the original. There's still extreme craft beer for remarkably good prices. Pints start as low as ¥700 for his own beer, which Kochi brews at a small production facility in Yokohama. His brews take their inspiration from the hoppy, high-alcohol imports from the U.S. West Coast that he also serves (pints, ¥1000〜). Small sizes are also available starting from ¥500 for his beer and ¥800 for imports.
The twist on Kochi's new place is the food. He serves meatballs cooked up in the bar, hence the name. Craft beer and meatballs–we've never seen or heard of that anywhere, but it works! Hungry customers can choose from small (4 meatballs, ¥400), medium (8, ¥600), large (13, ¥900) or six on a sub roll (¥700). The two styles we saw on the menu were beef-garlic tomato sauce-provolone, and lamb-Jack Daniel's sauce-blue cheese, but they are continuously experimenting with different combinations.
The interior is no frills with exposed concrete, a simple bar and ample standing room. Despite the music, there is no mosh pit. Stage, um, we mean bar diving is not allowed either.