When searching for a place to set up base, many entrepreneurs and small business operators immediately flock to Tokyo and end up spending excessively on rent and operations costs. Unfortunately, most are unaware of the quality workspaces Yokohama has to offer due to a notable lack of publicity, especially in languages other than Japanese.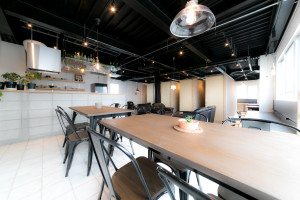 One place in the city that we can recommend in particular is Work Factory Yokohama. It was founded by Yokohama native, real estate guru, and entrepreneur Tomoya Yamada. Yamada wanted people to be "proud of their lifestyle". He opened the space to enable people to optimize their working environment, which should in turn support their overall work-life balance.
Work Factory has all the amenities you would expect from a professional workspace, such as high speed WiFi and a printing suite. As a bonus, it also has a free shower room and a fully furnished kitchen. Beyond these conveniences, what makes Work Factory especially appealing is the quality interior design, which is chic and ergonomic. In some ways it resembles a boutique hotel or B&B suite. As the share office market grows and becomes more competitive, the deciding factor will come down to strength of design.
Another major selling point of Work Factory is its location. It is a mere two-minute walk from Hiranumabashi Station on the Sotetsu Line and only an ten-minute walk from Yokohama Station's bustling West Exit. It's only a stone's throw from Okano Park in case you are in need of a little green space. If you are in the market for a workspace, make an appointment soon for a personal tour (in English or Japanese) of Work Factory, as there are limited vacancies.