We don't normally imagine farmland in a port city like Yokohama. However, I had a rare opportunity to talk with a local farmer who's been building a brand with his local produce. Katsunori Sato, owner of Yasaiya Sato Farm, has expansive farmland in Tokaichiba that has been passed down through generations of his family. His farmstand, located about five minutes from Tokaichiba Station, is always busy with customers seeking fresh vegetables and rice.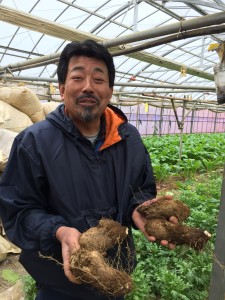 The Satos produce a wide variety of crops on their 3+ hectares of farmland, which consists of vegetable fields, rice paddies and greenhouses. To market his grown-in-Yokohama products, Sato offers harvest experiences for visitors and participates in farmers markets in the city. Check out his Facebook page, frequently updated by his daughter, to see him working on his farm and at the market.
Sato is a regular vendor at the Yokohama Kitanaka Marché, held monthly near Bashamichi since last year. Among the numerous vendors from across Japan showcasing vegetables, fruits, bread and wine, Sato's booth is always crowded with vegetable lovers. He happily explains how to cook and eat vegetables that most visitors have never heard of, including Kyo-imo (a taro), Jerusalem artichoke and Italian veggies such as Chioggia radicchio and Tardivo radicchio.
The next Yokohama Kitanaka Marché is on December 17th and 18th. Visit the market in the morning since Sato's products sell out quickly, and check out the freshly pounded genmai mochi (brown rice cake), perfect for New Year. "People normally go to the store to buy ingredients because they've already decided what to cook, but if you see my vegetables and create a recipe incorporating them, I'm overjoyed," Sato says. If you encounter a cool vegetable at the market, talk to the growers, ask about the best way to cook it and bon appétit! 
 Yokohama Kitanaka Marché
Date & Time Dec 17 & 18  10:00~16:00
Venue: Kitanaka Dori Kita Daini Koen area
Address
緑区十日市場町819-10
045-981-5239